The Davies Real Estate Team

Agent

in Sandpoint, ID
Associate Information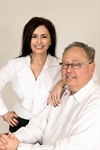 Professional Designations
REALTOR, REALTOR (B), REALTOR (S)
Dentist and His Wife Turned Real Estate Agents, Drop the Daily Drill!
Why should a successful San Diego Dentist and his Office Manager wife pull up stakes and relocate to Idaho? Dr. Tom Davies and Lisa Davies grew up in Southern California; Tom attended UCLA, and USC School of Dentistry. USC Trojans at heart, Tom and Lisa opened a general dentistry practice in North San Diego County and enjoyed all the benefits this career has to offer. They used their marketing, sales, and professional skills to grow their practice to a staff of 25 with 60,000 patients. Tom's and Lisa's personal lives were fast paced and very busy. They seemed to have it all, but at what price? Sound familiar? Seven years ago, Tom and Lisa decided to make a lifestyle change and move to the Idaho Panhandle.
Now, their commute is to the river they live on to go fly fishing. Tom and Lisa--and their Newfoundland Dog, Baron-also enjoy hiking and kayaking. The lifestyle is a blessing.
The Davies Real Estate Team, a point office for NextHome Living the Northwest, epitomizes integrity, hard work, advanced technology, and a personalized service in every detail of your real estate transaction. They listen to their clients and focus on taking the pressure off them, so that they can make a clear and concise decisions throughout the process. The NextHome Franchise is located all over the United States and is geared towards marketing your home through an advanced tech approach. The Davies Real Estate Team additionally has a savvy marketing campaign for the best exposure for their clients. The mission of The Davies Real Estate Team is to continue to meet new people, support them in realizing their real estate dreams, and develop lifelong friendships.
Please call The Davies Real Estate Team anytime without obligation. They are ready to go to work for you! (208)263-0701
Nature awaits, your NEXT move!